4th July 2017
"Haute Couture means a license to use anything, from the most expensive materials to the most complex fabrics: it is a laboratory of ideas, the extreme luxury."
Hello everyone so it is currently Paris Fashion Week at the moment for Fall/Winter 2017 and today I will be writing about Chanel's show, which looked extraordinary. Keep reading for what Chanel has for Fall/Winter this year...

Chanel was held in Paris' Grand Palais. The set was inspired by Paris itself and had a giant Eiffel Tower replica that was created to form an arch over the runway. The setting was just

magnificent. It was bright, it almost looked like it was outside with leaves being seen on the ground and trees and plants placed around the place and the Eiffel Tower could be seen from the windows. Perfect setting to watch what has been created and the man behind Chanel, Karl Lagerfeld

.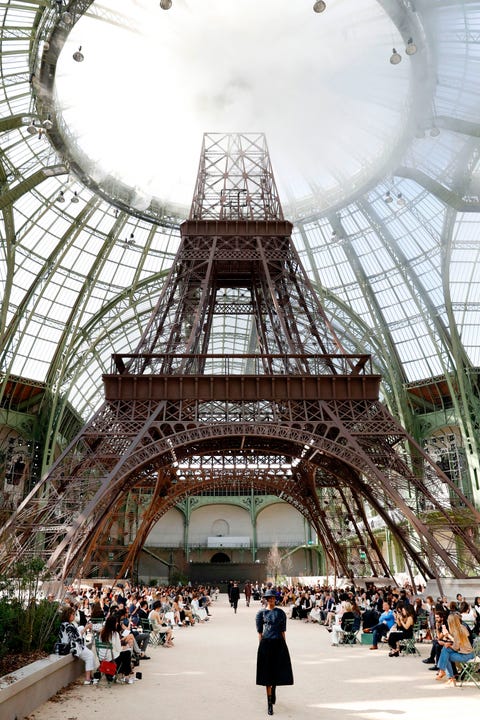 The front row consisted of mostly stars this year including Kristen Stewart, Katy Perry, Pharrell Williams, Cara Delevingne, Julianne Moore,Rowan Blanchard and more.
Before I get into the collection I just wanted to show you how incredible the makeup was on these models, it really brought the outfits together with some colour. Every model featured with a bright rainbow eyeshadow which gave a beautiful touch to the dark-hued collection.
Karl Lagerfeld, Chanel's creative director brought back the early 20th century boater hat back. They were all different they came in a variety of different fabrics, tweeds, satin and leather. Every look was finished with the boater hat.
The collection to me personally was beautiful. No words could describe the detail in each piece, they were just spectacular. Grays Blacks and Whites were Chanel's colours for Fall/Winter and definitely my go to colours when it comes to this season. Very chic and minimalistic. The show started featuring 25 looks with variations of gray and then leading into head-to-toe in black and finally finishing off with a gorgeous Chanel bride in all-white. The boater hat topped each of the looks and gave it a touch of elegance. There was 64 looks in total. I thought I would show you the whole collection as it's something you must see, the pictures are in order of how the show went.